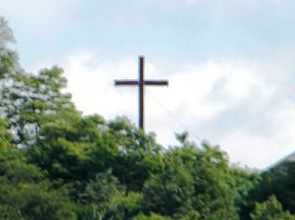 When I survey the wondrous cross on which the Prince of Glory died, my richest gain I count but loss, and pour contempt on all my pride.
Location
The cross is perched on a hill across the Allegheny River from Dreshar Stadium in Tarentum. It has stood at the foot of Hilltop Drive in Lower Burrell for over 50 years.
History
The first cross was made of wood and was erected on Pitcairn Heights, above West Tarentum, in the 1930's by a local church group. The 30-foot-tall cross was illuminated during Lent and Easter. Harsh weather eventually took its toll and a second wooden cross was put up in Tarentum. The idea for a permanent metal cross came from a Bible class at First Presbyterian Church, Tarentum in 1955.
Community
The cross became a community wide project.
A Lower Burrell family graciously donated property to erect the cross.
Engineers at Alcoa Technical Center in New Kensington designed the cross.
The Allegheny Ludlum Steel Corporation in Brackenridge donated the stainless steel
The cross was fabricated at the company's plant in Dunkirk, New York
The cross was dedicated at the community Easter Sunrise Service in 1956. It is lighted at dusk every evening to shine over our community throughout the year.
Dimensions
The cross stands on a 4-foot-high concrete base and measures 34 feet from the base to the top. The arms of the cross extend 8 feet from the center.
There are no events at this time
We now accept credit card donations!